Share this URL: https://learn-data-science-and-future-proof-your-career.peatix.com/
Event is FINISHED
Learn Data Science & Future-Proof Your Career
Learn Data Science & Future-Proof Your Career
An introductory data science course that covers the fundamental concepts that
begins the career path of a data scientist.

It covers the basics of algorithms, machine learning techniques & data mining concepts. You will also learn with case studies, elaborating on how different types of businesses adopt data science to grow their business.

There will also be lab-based exercises for participants to experiment in
gaining insights using real-world datasets.
Click here to read about the workshop
Why learn 'data science' or 'big data'?
The world's most valuable resource is no longer oil, but data.
Learning data science means acquiring the skill to collect, analyze & model large amounts of data – using softwares designed for the task, in the process.


The demand for data analysts or data scientists is increasing as we move into a world filled with data.

Corporations use data to make smarter business decisions, e-commerce stores user data to advertise products to targeted users and politicians use data to predict & win election campaigns


Even if you don't plan on being a full-time data analyst or scientist, the ability to work with data is becoming a much sought-after skill. Data science enables you to bring impact on the world, doing interesting work, like machine learning.


Start learning today and see how exciting & rewarding data science is!
What You'll Learn In This Workshop?
No programming experience is needed.
Just make sure to bring your laptop.
1 - Understanding Data & Key Concepts
Learn what data really is and discover every component in data science.
What is the difference between qualitative and quantitative data?


2 - Building Your Data Science Workflow
Start building your data workflow, formulate a hypothesis, do data cleansing and explore deep data analysis.


3 - Machine Learning
Learn how to use machine learning and harness the power of it to develop programs that can make predictions based on data.


4 - Big Data & Artificial Intelligence
Dive into the world of big data analytics, learn artificial intelligence and how to use them in everyday life.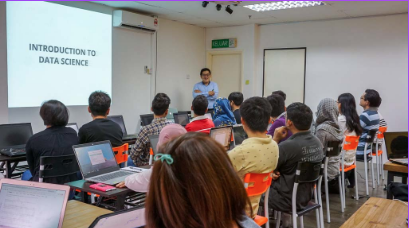 Who Should Join This Workshop?
Aspiring Data Scientist
Are you trying to break into a career in data science?

Join like-minded students and shortcut your career pathway.
Individuals
Individuals with an interest in data science, wants to properly understand it and know how to apply it in real-life and work
Working Professionals
Pick up data science and add it to your skill set. Upgrade your value as an employee or business owner. It'll be worth it.
Your Instructor
Nazmi is a data scientist and full stack developer with over 6 years of expertise in Laravel, Python, Java, Ionic & Android Studio.

Currently, he resides as a data scientist in Air Asia and is in charge of data strategy, architecture and analytics framework development. He's looking to share lessons and his experience to aspiring Malaysian data scientists.
Join The Data Science Workshop Now
Whether your goal is to understand how data is used in the world today or becoming a data scientist, this course will act as a premier to your success in data science.

Date: 18th July 2018 | Time: 7:00PM – 10:00PM | Venue: Six Hatch Training Centre, PJ

If you need support, just contact:
reuben@thelead.io or call +6 016-473 7281
What Our Students Say
All our students have found exciting jobs at amazing companies.
The same workshop has been conducted at companies and organizations such as:
Workshop Details
Address:
A211 Block A Damansara Intan E-Business Park, 1 Jalan SS20/27, 47400 Petaling Jaya, Selangor
Date:
18th July 2018 (Wednesday)
read more
Updates
The event description was updated. Diff#352392

2018-07-10 17:00:20
More updates
Wed

Jul 18, 2018
7:00 PM
-
10:00 PM
MYT
Add to Calendar
Venue
Tickets

Early Ticket

SOLD OUT

RM150.00

Standard Ticket

SOLD OUT

RM240.00

Personal Mentoring

SOLD OUT

RM1,299.00
Venue Address

A211 Block A Damansara Intan E-Business Park, 1 Jalan SS20/27, Petaling Jaya

Malaysia
Organizer
Want to find more groups and events like this?